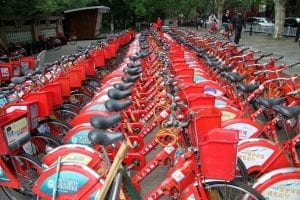 Since 2015, ITDP has received over €10 million in support from IKI for three projects: a country-based project in India (€3,250,000 for 2015-2023), a country-based project in Indonesia (€2,220,000 for 2015-2022), and a regional project in East Africa (€5,000,000 for 2018-2023).
The India Sustainable Mobility Initiative aims to catalyze a shift to low-carbon transport through state- and national-level policies. ITDP has helped launch the Pune Rainbow BRT and two new bikeshare systems, achieved adoption of a national transit-oriented development policy, and redesigned hundreds of kilometers of safe, inclusive streets. In Indonesia, the Optimizing Public Transport project delivers strategies to avoid car use and shift users toward more sustainable modes in Jakarta, Medan, and Semarang. Last, Growing Smarter: Sustainable Mobility in East Africa works to introduce high-quality, equitable, and environmentally sustainable urban transport facilities in major cities in Ethiopia, Kenya, Rwanda, Tanzania, and Uganda.
ITDP is a key partner in three discrete consortiums that have been selected to implement the UK Prosperity Fund's Future Cities program in Brazil, Mexico, and Southeast Asia (2019-2023). The total budget for each country is €5-10 million, with ITDP receiving up to €600,000 in each. The Future Cities program's overall goal is to alleviate high levels of urban poverty by encouraging sustainable development and improving economic growth and prosperity. In each consortium, ITDP is the primary local partner focused on sustainable transport interventions and improvements, such as an integrated public transport system in Bandung, Indonesia and intelligent mobility in Belo Horizonte, Brazil.