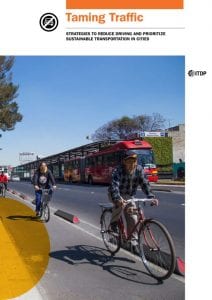 Demand for and use of private cars is growing worldwide, contributing to major challenges like poor air quality, traffic injuries, and climate change, especially in places experiencing rapid urbanization. Population growth and uptake of vehicles, coupled with inefficient public transportation and land use planning, make traffic a complex problem to manage. While many city leaders recognize that traffic is a problem, they too often focus on road expansions and new highways as the solutions. Not only can this make congestion worse through induced demand, but it does little to address the many other negative impacts of driving.
Instead, cities must consider traffic reduction strategies that prioritize people and well-being, and that require drivers to consider environmental and societal costs in addition to internal costs when choosing to drive.
As the world looks to recover and rebuild in the wake of the COVID-19 pandemic, cities have the opportunity to curb the growing demand for driving by prioritizing street space and even generating revenue that can support public transport, walking, cycling, and other sustainable modes.