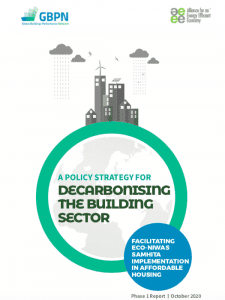 Facilitating Eco-Niwas Samhita Implementation in Affordable Housing
India's urban population grew from 290 million in 2001 to 378 million in 2011 and is projected to reach 590 million by 2030. Meeting the associated increase in demand for housing in urban areas has proven to be a challenge; in 2012, the Technical Action Group on housing estimated a housing shortage of 18.78 million in urban India.
As a response to the growing housing deficit, the Government of India (GoI) launched the Pradhan Mantri Awas Yojana (Housing for All by 2022 – PMAY) in 2015, with a vision to provide every family with a pucca (type of construction deemed permanent) house with a water connection, toilet facilities and 24X7 electricity supply. PMAY-Urban (PMAY-U) aims to build 12 million housing units by 2022.
According to the IEA, based on the current policies and programs, India is projected to double its energy demand and have the largest increase in energy consumption worldwide between 2020 and 2040. A significant portion of this demand is projected to come from increased appliance ownership and cooling needs arising from the growing per capita income, coupled with aspirations for a better quality of life, enhanced access to housing, and higher expectations regarding the amount of built-up space per capita and the provision of thermal comfort.
Given the current and anticipated rapid growth in the residential building stock across India and the consequent opportunities, as well as the need for energy conservation in this sector, the Ministry of Power formulated the Energy Conservation Code for Residential Buildings (Eco-Niwas Samhita) in 2018.
Energy codes for residential buildings are an essential regulatory measure, particularly for a developing country like India, where the building stock is increasing. These codes are crucial to ensuring that this growth follows a low carbon development pathway and avoids the long-term lock-in of inefficient, high energy-consuming residential buildings.
The study offers insights to facilitate the adoption of Eco-Niwas Samhita for enhancing thermal comfort and energy efficiency in affordable housing projects in Ahmedabad.
With the overall aim of 'formulating a policy strategy for decarbonizing the building sector', the report focuses on developing a complementary and simultaneous top-down and bottom-up approach to facilitate the implementation of the residential energy conservation code, Eco-Niwas Samhita (ENS). It builds on the hypothesis that integration of energy conservation code in affordable housing programs like that of PMAY-U, needs a holistic understanding of the sector as a whole, as the affordability of dwelling unit is a function of not the cost of material and construction alone but multiple factors like procurement and tendering for the housing project, location of the house, design specs of the project, the lifecycle cost of the building, etc.