On-street and off-street parking have been the subject of increasing public and political discourse in recent years as urban populations continue to grow and, with it, the urgent need for more affordable and available housing, green space, and access to employment and services. From New York City to Nairobi to Beijing, cities' efforts to unravel outdated regulations related to the development of parking have certainly faced challenges, but are also beginning to yield successes. The perpetual oversupply of parking in urban areas can lead directly to higher housing costs, inefficient land use, and more vehicle ownership and driving, which ultimately worsens air quality and increases emissions.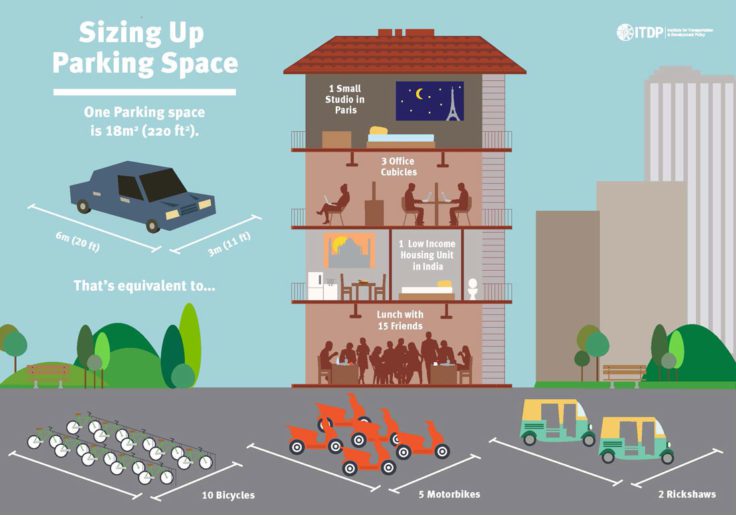 Thus, cities that continue to build new parking storage and maintain antiquated parking policies will continue to deal with critical environmental and social consequences. Off-street parking mandates, and the resulting occupation of valuable city space with swaths of parking garages and surface lots, have contributed to pervasive issues of sustainability, housing availability, and social equity that plague our cities in the present day. Urban dwellers are caught in a cycle of competition for space and access to essential services, places to live, employment opportunities, healthcare, and other destinations — a cycle that mostly leaves those with fewer resources in the dust.
At the same time, large amounts of city land allocated to parking also sit underutilized and unproductive every day, spaces that we know can be used to house residents, generate economic activity, or provide much-needed urban greenery. Off-street parking is, unfortunately, a costly and often overlooked area of urban planning. Bringing parking supply closer to actual demand is crucial to creating a future for compact, accessible cities that are more livable and sustainable for everyone. It is important to note that the goal of off-street parking reform is not to eliminate parking altogether but to ensure that valuable urban space is used more efficiently and equitably.
In ITDP's Breaking the Code: Off-Street Parking Reform report, we take a closer look at the considerations and potential outcomes of reforms by diving into the efforts of several cities and countries that have removed parking minimums and prioritized complementary actions. These case studies of Atlanta, GA, USA; Beijing, China; Mexico City, Mexico; Minneapolis, MN, USA; San Pedro Garza Garcia, Mexico; São Paulo, Brazil; and the country of New Zealand offer key lessons on real-world barriers and solutions that can serve as a guide for other governments and policymakers seeking to make similar changes to their policies.
Informed by the experiences in the case studies, the report authors ultimately recommend that city, state, provincial, and national governments:
Remove (or reduce) parking minimums;
Leverage political will at the right level of government;
Communicate plans for reform using messaging that resonates with the public;
Collect and reference data to strengthen the "why" and "how";
Package parking reform alongside complementary policies; and
Link parking reform to specific, achievable outcomes.

Removing parking minimums is an important first step to improving off-street parking so that fewer parking lots are built, encouraging more trips in and around cities to be made by sustainable modes like public transit, walking, and cycling. Related tools such as adopting parking maximums – limiting how much parking space can actually be built — and reducing the street frontage of surface lots and garages can deliver even more impact.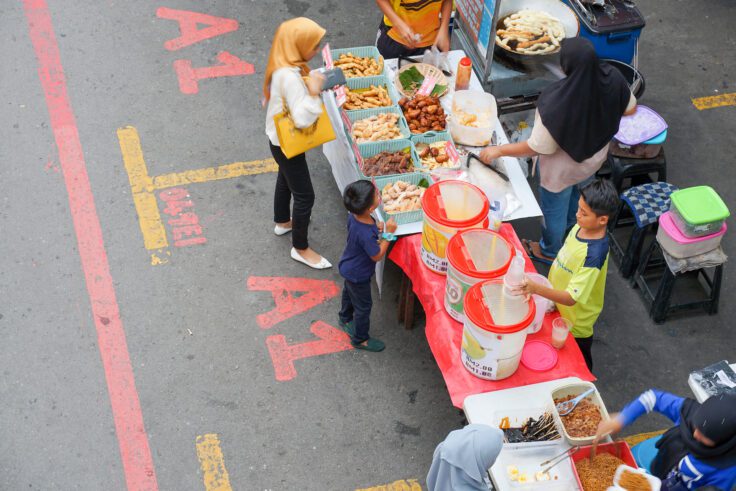 The removal of parking minimums is often even considered favorable by local businesses and property developers, whose costs can be significantly reduced when requirements to provide parking and reallocate space are removed. City space that would have been previously required for parking and vehicle storage can subsequently be used for the development of new housing units, retail, healthcare facilities, parks, and beyond — efforts that will undoubtedly garner public, political, and economic support.