By Karishma Joseph, Senior Communications Associate at CLASP India
In the past year, India faced some of its highest summer temperatures in 122 years. Extreme heat poses a threat to the country's productivity, health, and energy security as the country's cooling demand continues to expand. To keep cool, 90 percent of India or 1.2 billion people use a fan in their homes – more than the combined population of USA, Japan, the EU region, and Canada. However, only 3 percent use energy-efficient fans. Higher-efficiency ceiling fans hold the potential to reduce greenhouse gas emissions, consume lesser electricity, and save electricity costs for consumers.
Earlier last month, CLASP and Energy Efficiency Services Limited (EESL) hosted a workshop on 'Strategies to Increase Adoption of Efficient Fans in India', bringing together government agencies, civil society organizations, fan associations and manufacturers, consumer groups, and academia. The objective of the workshop was to facilitate a discussion on mass deployment of energy-efficient fans in the Indian market and the role of various stakeholders in driving market transformation.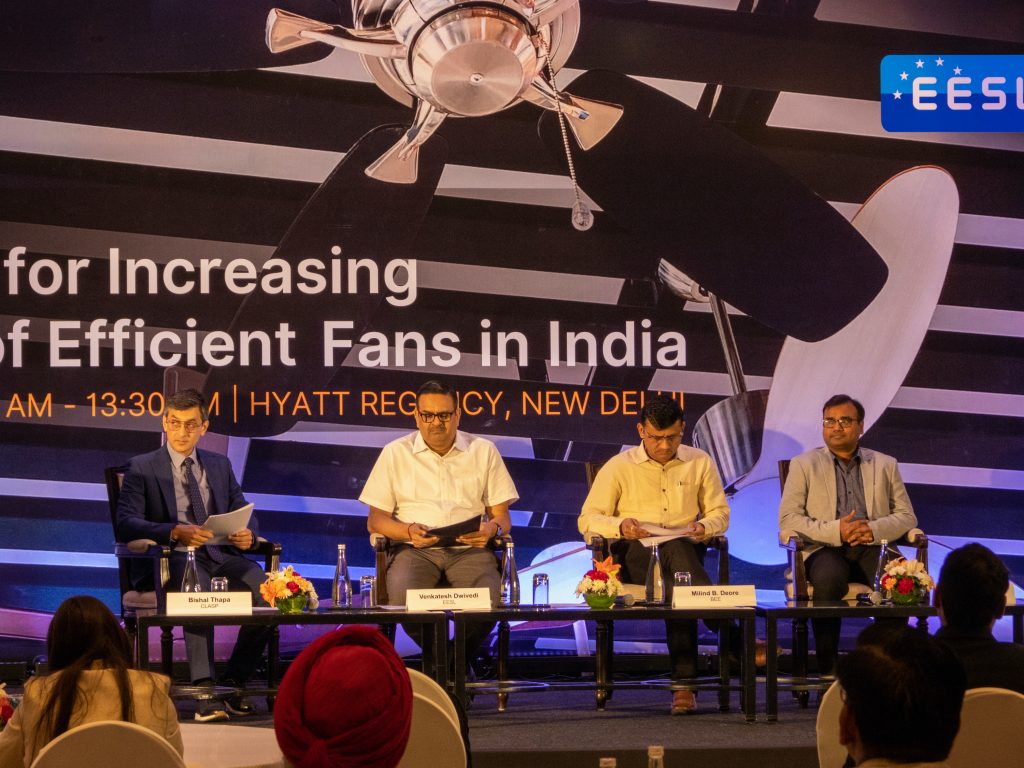 "For millions in India and around the world, fans differentiate a good night's rest from a bad one. Or in extreme cases, fans can be the difference between life and death," noted Bishal Thapa, Senior Director – India, CLASP as he highlighted the importance of fans for efficient and affordable cooling at the inauguration of the event.
What makes fans important in India?
Nearly 60 million units of ceiling fans are sold every year, make it one of the most sold cooling appliances
Ceiling fans alone accounted for ~40 percent of India's residential electricity consumption in 2021, and this number is expected to remain significant at 32 percent in 2030
India's electric fan market is expected to cross INR 16,000 crore (USD 1.95 billion) by 2027-28
With the growing popularity of ceiling fans, India's Bureau of Energy Efficiency (BEE) upgraded the Standards and Labeling (S&L) program for ceiling fans to a mandatory category in 2023. Today, all ceiling fans in India must display an energy efficiency star rating label. This initiative will ensure that vulnerable populations have access to affordable ceiling fans, while reducing carbon emissions.
"Aggregating demand and collaborating with manufacturers to increase supply of energy-efficient fans will help drive market transformation," observed Milind Deore, Secretary, BEE.
To drive market transformation, EESL launched an initiative in 2023 to deploy 10 million energy-efficient fans in the Indian market. By transitioning the entire stock of residential ceiling fans, India could save 15 percent of its residential power consumption annually. This is also in line with India's commitment to achieving net-zero carbon emission by 2070.
The workshop included two panel discussions that explored opportunities for growth in India's fan supply chain and the potential routes for market transformation. The panels consisted of representatives from BEE, EESL, government agencies, manufacturers, think tanks, NGOs. The rich and engaging discussions were well received by over 150 attendees in person.
Pravati Samal, Director – Bureau of Energy Efficiency (BEE), highlighted the profound emotional attachment that rural Indians have towards their older ceiling fans. Despite the minimal cost to upgrade to a more efficient model, the sentimental value of these fans often overshadows considerations of energy efficiency.
Key takeaways from the discussion included:
Combining education, awareness, and dialogue, will be essential to striking a balance between cultural sentiments and the pursuit of energy conservation
Replacement value must be passed onto those who upgrade to energy-efficient models
Awareness and targeted messaging must be designed for relevant consumer groups
Dedicated platforms must be created for consumers and manufacturers
Subsidies and incentives must be granted to fan manufacturers
CSR funds should be used to increase awareness
This workshop included a live demonstration of fans of various star ratings running through the course of the event. The conventional, 3-star, and 5-star fans provided participants to practically understand the difference that efficiency can have on energy consumed and cost incurred by ceiling fans.
Lesser energy consumption of ceiling fans will result in fewer resources used, reduced energy generated, energy costs saved, and consequently, will mitigate emissions exponentially. Energy-efficient fans in India can help extend critical cooling to people, especially those vulnerable to rising temperatures without access to to cooling appliances.