By Lingzhi Jin, Senior Researcher at the International Council for Clean Transportation and Yidan Chu, Associate Researcher at the International Council for Clean Transportation.
Although several large cities around the world have seen significant uptake of electric vehicles (EVs), in many regions, the progress has been uneven and dominated by urban areas. This is certainly the case in China, where large cities accounted for over half, about 58 percent, of EV sales in 2020. It's an imbalance because rural residents alone (not even counting those in small cities and towns) are approximately 35 percent of China's total population.
Expanding the EV market beyond cities is vital in an equitable, economy-wide transition to clean and low-carbon transportation. To help address the issue in China, "NEVs to the Countryside" programs have been implemented at the national and local levels. These have been a good approach to spur EV sales in rural areas and in nearby small cities and towns, and they are a good example for regions outside of China.
First, some economic context. While the average disposable income of residents of rural areas in China is lower than in urban areas, the average disposable income and spending in rural areas increased at a faster rate than in urban areas from 2015 to 2021. Over the same period, the number of vehicles per hundred households grew 130 percent, from 13 to 30, in rural areas; the growth was 67 percent, from 30 to 50, in urban areas. However, barriers such as high upfront cost and limited access to EV information, products, and service still hinder wider adoption of EVs in rural areas.
NEVs to the Countryside started at the national level in 2020. NEVs are battery electric, plug-in hybrid electric, and fuel cell electric vehicles, and the term is used interchangeably with EV in this blog post. The program targets rural areas and small cities and towns. Small cities and towns that are close to rural areas serve as hubs for rural residents to get more services, including those related to automobiles. The program features a series of events at different locations during which local governments publish their supportive policies, if any, and eligible manufacturers showcase their participating NEV models and discounts. Approximately 25 manufacturers and 60–70 NEV models participated in the events in the past few years, including traditional manufacturers such as SAIC and Dongfeng and "new forces" such as WM Motor and Leapmotor. Partly due to this program, the portion of NEV sales that occurred in rural areas increased from less than 20% before 2019 to 29 percent in 2020, 31 percent in 2021, and 35 percent from Jan–May 2022.
Other than the national program, local governments are also encouraged to create their own programs and supporting policies. For example, Jiangsu province organized its own NEVs to the Countryside events in 2020 at 10 locations. Discounts on eligible models ranged from CNY 3,000 CNY to CNY 10,000. During Jiangsu's 4-month event, 40,754 NEVs were registered in the province, a 174 percent increase over the same period in 2019; these vehicles were 54.7 percent of total new registrations in 2020.
It was not smooth sailing all the way, though. Some lessons learned include the need to showcase a diverse—but still targeted—array of models, and the importance of expanding sales channels and after-sales service to sustain the growth in these areas. For example, although microcars are usually considered most popular in small cities, towns, and rural areas in China, governments and manufacturers are trying to encourage the introduction of more diverse models to accommodate different needs while still considering the characteristics of these markets.
Figure 1 below shows that there has been an increase in model offerings in the national program over the past 3 years and in 2022, more cars in the A and B segments participated. The number of A00 models decreased in 2022; these models are less expensive, shorter-range microcars that resemble a Smart Fortwo.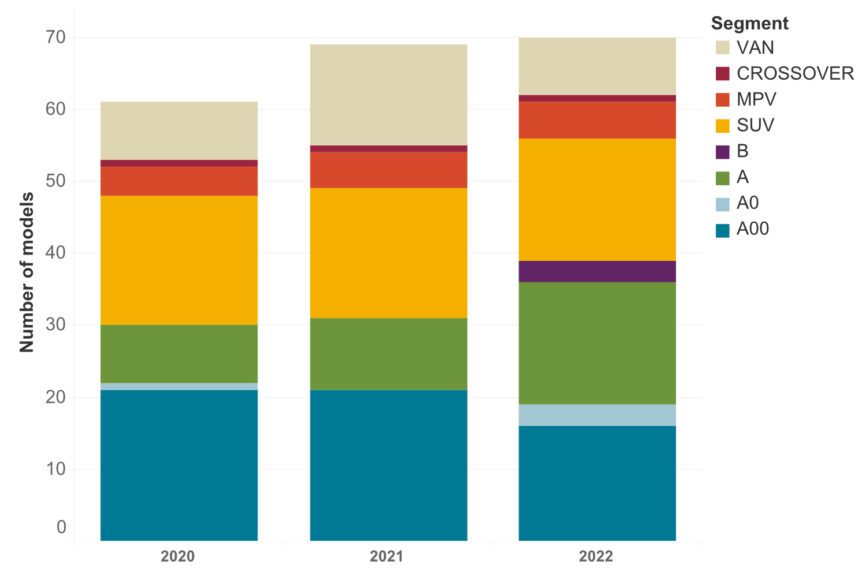 There has also been a slight increase in the average all-electric range and price of models over the years (Figure 2). The average range of models offered in 2020 was approximately 300 km, and this can cover the needs of most trips in small cities, towns, and rural areas. This increased by around 4 percent in 2021 and another 14 percent in 2022. While the average price for participating models increased about 10 percent each year in 2021 and 2022, it's still within the price range of vehicles typically sold in these areas. Based on the price of NEVs sold in Q1 of 2022, 73 percent of NEVs sold in rural markets were less than CNY 150,000; that's a much higher percentage than the 43 percent in urban areas.
Governments other than China have also been trying to expand EV adoption beyond cities. In the United States, for example, the Infrastructure Investment and Jobs Act of 2021 invests $7.5 billion to build out a convenient and equitable national network of EV chargers. This funding has a particular focus on rural, disadvantaged, and hard-to-reach communities. We've also done studies on rural regions in Europe and found that various actions were adopted to increase access to EVs, expand charging infrastructure, and raise consumer awareness in the rural regions with leading EV shares of new passenger car registrations. Only by providing support like this to areas beyond cities can we move more quickly as a whole to a future where clean air is for all.